''An insight into global ports M&A''
PFI (Port Finance international) provides a unique platform connecting the Port and Finance industries. Building on over 8 years of successful forums and training courses around the world, all focused on delivering highly targeted knowledge and information on global port and terminal investments and developments, PFI is now excited to announce the Port Finance Summit for 2019. This exclusive Summit provides senior executives from the Port and Finance industries top level networking and the exchange of ideas and business opportunities.
Port Finance International (PFI) and Maritime & Transport Business Solutions (MTBS) announce the launch of the new Port Finance Summit Istanbul 2019, to be held on January 31st 2019 at the Palais d'Hollande in the Consulate General of the Kingdom of the Netherlands in Istanbul.
Investment in the transport sector, and in particular in ports and terminals, has been steadily moving from greenfield activity and towards M&A – with global interest growing thanks to robust attributes and a steady flow of new opportunities.
As the marine terminal industry reshuffles, the focus continues to be on creating better and integrated infrastructure. High prices - especially for ports infrastructure assets – mean new and broader sources of investment and funding are becoming available – such as equity financing options, sovereign funds and governments. Add to this a continuing growth of interest in strategically important port assets.
The re-designed annual PFI Port Finance Summit will bring together all those involved in ports and terminal acquisition and divestment, with peers, clients and prospects under one roof enabling deal making and business opportunities. As the only international platform designed to bring the port industry's C-level executives together to facilitate top tier networking, discussion and to explore and forge profitable business opportunities, the aim of the Port Investment Summit will be to forge profitable business opportunities and relationships.
With diverse perspectives from international port investors, project developers, buyers and sellers of port assets, this one-day Summit will provide buyers and sellers with the opportunity to discuss ongoing and upcoming projects – through keynote speeches and panel forums, roundtable sessions, a networking lunch, drinks reception and a Gala Dinner to round off the day's discussions.
Istanbul represents the ideal location to host this new PFI Port Finance Summit. Firstly, as the birthplace of PFI in 2010 since when PFI has had fantastic support from industry leaders such as Turkish Chanmber of Shipping, Turklim, Ministry of Transport & Infrastructure, Arkas, Yildirim, Safi, APMT, Poliport, DP World, EBRD, Garanti Bank, Akfen, Raiffeisen, and many more. Additionally, with superb connections to the rest of the world, a strong global presence from leading asset owners and investors is expected.
KEYNOTES AND FIRE SIDE CHATS
Asset owners will share their ongoing project plans and outlook – outlining their needs and requirements for investment and collaboration. Investors will have the chance to learn more about these projects in exclusive fire side chats, designed to give both sides the opportunity to engage in real business discussion.
PANEL DISCUSSIONS AND ROUNDTABLES
These sessions will bring together experts from throughout the value chain, for peer-to-peer discussion on how to better collaborate and to both highlight business critical challenges and identify solutions.
NETWORKING
As well the plenary sessions, where business will be high on the agenda, PFI Istanbul 2019 will provide unparalleled networking for those attending – through a post Summit drinks reception and a hosted Gala Dinner.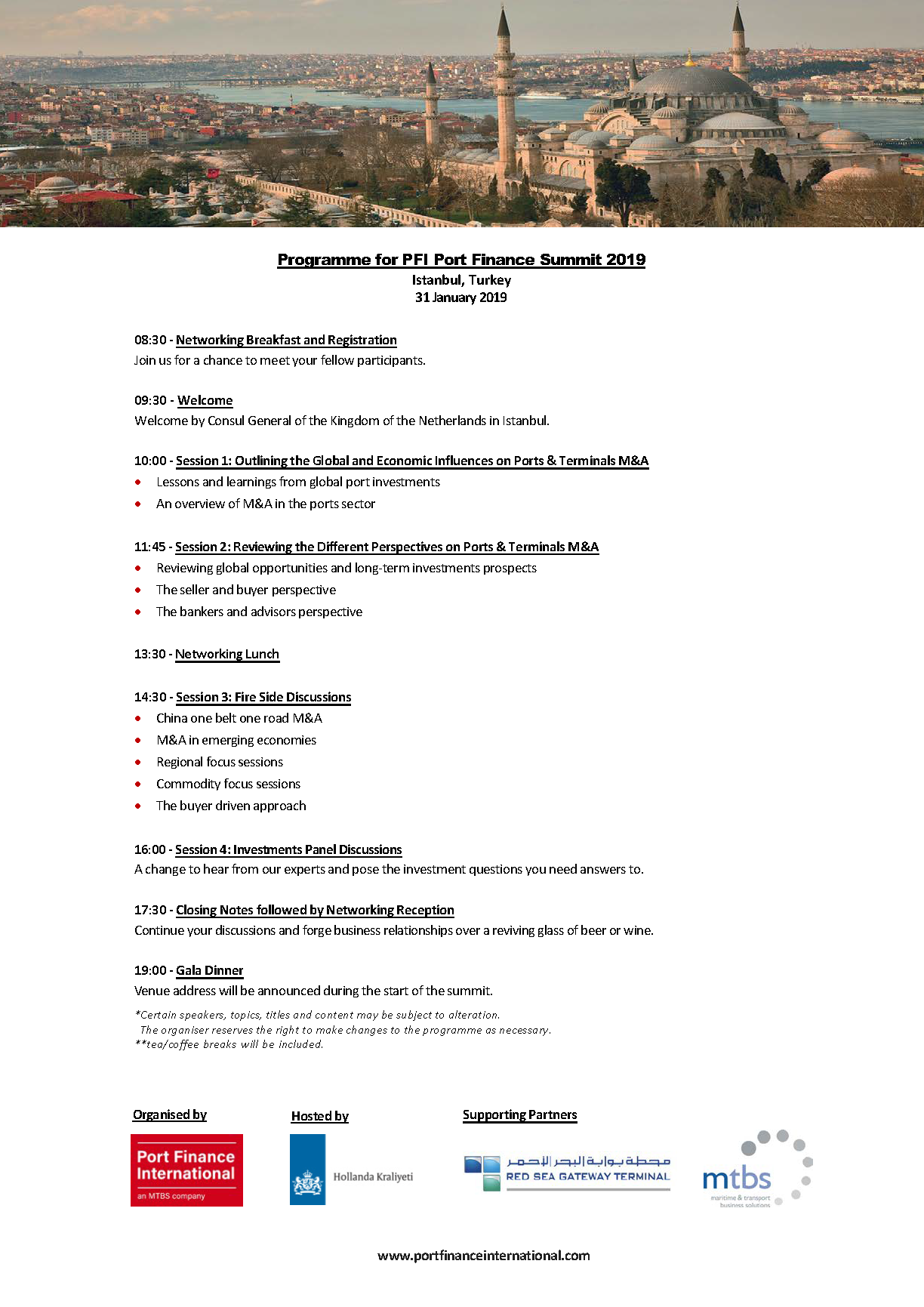 Download Programme
Pictures
You are very welcome to use these pictures, but we would ask that you mention ''Port Finance International'', please. Click here to view all pictures.
Venue
Palais d'Hollande at the Consulate General of the Kingdom of the Netherlands
Tomtom Mahallesi, İstiklal Cd. No:197
34433 Beyoğlu-İstanbul, Turkey
Map: https://goo.gl/maps/MKqLJfnqzWs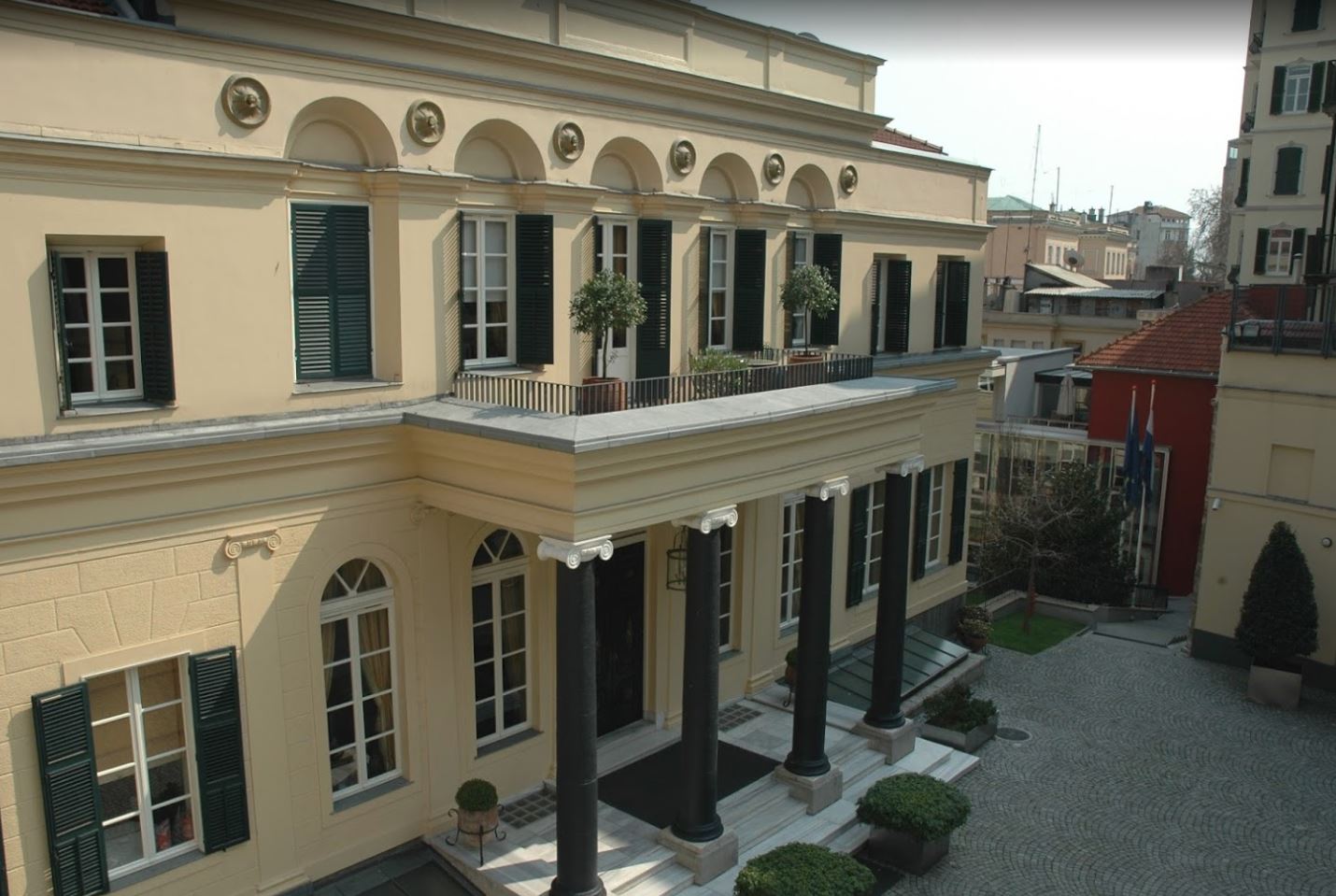 Accommodation
If you would like to view available accommodations in the area, please use the following link for the nearest accommodation, https://www.HotelMap.com/pro/MTJKH.

Alternatively, if you would like assistance with your hotel booking you can contact Jessica Heili. If you email Jessica with your requirements, phone number and quoting special reference code: W-MTJKH to Jessica_Heili@HotelMap.com she will get back to you to discuss your hotel options.
Visa
Please note that Port Finance International cannot assist you with applying for or obtaining visas. For information about visa requirements and application procedures please contact your local embassy or consulate.
Who should attend?
To join the PFI Istanbul Summit 2019, please send your joining request to sacha@portfinanceinternational.com
We are exclusively inviting C-suite guests, so attendance and eligibility will be vetted.
This Summit is aimed at those organisations who have active, current and demonstrable involvement in port developments, investments or M&A.  
Places will only be offered to those with direct responsibility for these activities.
Please contact us with any questions.